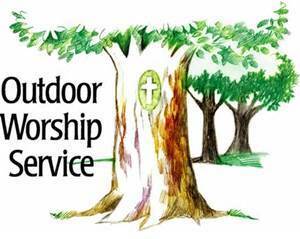 We are looking forward to our annual outdoor worship service at Weston Lake this Sunday,  Sept 30 at 10am! We join with our sisters and brothers from Christ the King Lutheran for this casual worship service, followed by a Covered Dish lunch and outdoor games (weather permitting). There are picnic tables under the shelter, but feel free to bring a lawn chair if you would like. Drinks, ice and paper products are provided–please bring a main dish, salad, side or dessert to share! And bring your friends as we gather together to worship God in the great outdoors! Picnic attire welcome!
Directions to Weston Lake from Trinity:
Take Greenlawn Dr. to Leesburg Rd. Turn right onto Leesburg Rd.
Take Leesburg Rd 7.2 miles – turn left at the Weston Lake sign (there will be bright yellow signs marked Trinity Presbyterian once you arrive at Weston Lake–follow those signs into the parking lot.
*NOTE: If you need to unload your car or arrive closer to the shelter, turn left on the dirt road before the circle, follow it around to the first shed you come to, next to the playground area. Once you unload your car, please return it to the parking area (or we will have people on hand to move it for you if walking is difficult).
In case of Inclement Weather:
Because we are under a large shelter, a little drizzle won't be a problem. If the weather seems too bad to head out to the lake, we will post changes here, on our Facebook page, and on our church voicemail. Plan B will be to meet here at Trinity in the Fellowship Hall. Please check back here after 8:30am on Sunday morning if you have a question about where we'll be worshiping!