ONLINE WORSHIP THIS WEEK
We will again offer online worship and will send the link out once we have the service loaded. It will also be posted to our Facebook page. You can also go to YouTube directly and search Trinity Presbyterian Columbia. Again, we encourage you to keep our regular worship time of 11:00am, so that we can symbolically worship together. The video will be available beginning at 11am on Sunday and thereafter.
At the same time we send the link, we will also send out links for online bulletins and bulletins for Worship at Home,  for those who prefer that option.
Those of you who wish to worship together via Zoom, please let Robyn know, so she can send you the Meeting ID.
Please send any prayer requests to Pastor Robyn by 12Noon on Saturday, March 28 to be included in the prayers during worship this week. Email her at robyn@trinitypresonline.com
WOULD YOU LIKE TO HELP PLAN HOLY WEEK?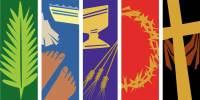 The Session will meet via Zoom on April 2 to reassess where things stand and what we are going to do going forward.
In the meantime, Pastor Robyn and Robbie are working on "Plan B" for Holy Week services since we are under a "shelter in place" ordinance. We'd love to have some creative minds help us! We will meet via Zoom. Please email Pastor Robyn (robyn@trinitypresonline.com) ASAP if you'd like to help!
WE WANT TO SEE YOU!!!
Please take a selfie and send it to us or email us a picture of you and/or your family! We are wanting to use them in an upcoming worship service! Even if we can't be with each other in person, we can still find ways to see each other's faces! Thanks!
Needing Help with Getting Groceries or Medications or Know Someone Who Does?
Please let us know! We have several volunteers in the congregation who are willing to help as needed!
HELP US HELP HARVEST HOPE!
Harvest Hope is in need of monetary donations as well as canned/dry food donations and volunteers to help with giving out food!  To make a monetary donation or to sign up to volunteer, click here.
If you are out and about, please drop off canned/dry goods (you  may leave them at the church office door if no one is here) by Friday afternoons. If you have canned/dry goods, but can't get out, please let Robyn know and we'll send someone to pick them up for you. You can leave them on your porch.