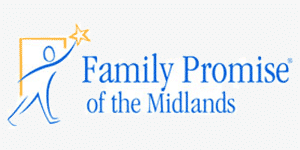 To our congregation and community partners:We are so grateful for the support and encouragement you provide to Family Promise of the Midlands throughout the year. This is especially true as we are continue to face the unfamiliar challenges associated with the COVID-19 pandemic.As you may have read, it has been projected that nearly 200,000 South Carolinians may be facing eviction in the coming months. It is more important than ever that we continue our work of supporting those who are experiencing housing instability.

To help us meet the undeniable need in our community, we are proud to announce that one of our local champions, NBA Hall-of-Famer Alex English, is hosting a celebrity golf tournament on behalf of Family Promise of the Midlands. We look forward to an incredible event at Cobblestone Park Golf Club in Blythewood, SC on Monday, October 26, 2020. In order for this to be a successful event, we have identified several needs:
Sponsorship opportunities range from $250 to $10,000. You can help us meet this need by:
Sponsoring a tee or hole for $250 (or more)
Partnering with another congregation to sponsor a larger item
Connecting us with business owners or corporate executives who may be able to sponsor at a higher level.
For more information on Sponsorships, please see the attached form or contact Brooke Chehoski at brooke.chehoski@gmail.com.
Donations are needed for raffle and auction. These could include a weekend getaway at a vacation home, a gift basket, or a gift card for a local service or experience. For more information, contact Betty Melvin at bmelvin803@aol.com.
Golfers! We expect to sell out the tournament, but of course invite any interested golfer to register for the event. To register, please see the attached form or visit our website: www.familypromisemidlands.org.
Volunteers will be needed at the event. To sign up to volunteer, contact Laura Bro at lauracbro@gmail.com.
Again, thank you for your continued support of Family Promise of the Midlands. We truly could not do our work without your partnership!