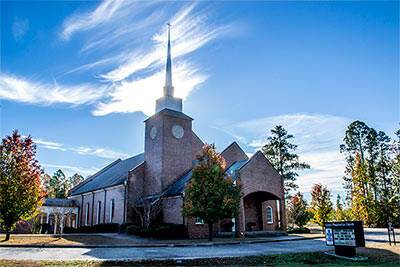 Welcome to the Trinity Presbyterian Church webpage!
Whether you are new to our area or have lived here for some time, we send a warm welcome from Trinity Presbyterian Church!
Trinity is located in SE Columbia, where we strive to honor God by loving, sharing, serving and growing through Jesus Christ!
We are a warm, welcoming congregation; small enough to know each other by name, and committed enough in our faith to reach out in and around our community in a variety of ways!
Trinity was organized in 1962, and is a member of Trinity Presbytery in the Presbyterian Church (USA). Our session (leadership board) is made up of 8 elders (church members who are elected by the congregation). We encourage our youth to have a representative serve on session as well. Trinity also helps support one of our many PC(USA) missionaries. We have a strong history of sending young people into the ordained ministry, and currently support one seminary student from our congregation.
We invite you to explore more about who we are and the ministries in which we are involved by looking around here on our website, and we encourage you to join us for Sunday School and worship.
If you are looking for a church home, if you need anything with which we may be able to help, or if you have any thing we could be praying about for and with you, please do come by, call (776-2067), or email us (office@trinitypresonline.com)! Our office is open Monday through Friday between the hours of 9am-12pm. We invite you to come be a part of what God is doing through us and in us and to experience firsthand the warmth of our Trinity family!We look forward to seeing you soon!
God Bless,
Robyn Garrison, Pastor