Missions
Trinity is historically very active in missions work, both through donations (financial and material items) and active service. Giving of ourselves in every way is part of what it means to live the Christian life.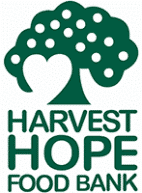 Here are a few of the missions in which we were involved Pre-COVID:
We regularly support Harvest Hope Food Bank by encouraging members to donate canned goods each week as part of our offering. A church member volunteers to take the food down to Harvest Hope. We have an annual goal of 1000 pounds and strive to meet that each year. Several of our members also volunteer their time at Harvest Hope during the week. On the 4th Thursday of each month, a group of Trinity volunteers help out at the Shop Rd location from 1-3pm.
We have served meals through the Salvation Army at Transitions Homeless center in recent years. And each December we fill stockings for children in need through Salvation Army.
Each December, we put together food boxes for families in need from the school down the block from the church. These boxes not only provide Christmas dinner, but also seek to help bridge the gap during the winter break, when the children are home from school.
Quarterly, we gather together on a Saturday morning to pick up trash along the roadways near the church in an effort to keep God's creation beautiful.
We have a long history of supporting a PCUSA missionary, currently serving in India. She and her husband work in a girls' college, helping young Indian women earn an education and better themselves in their culture. They also work with the "untouchables" in India.
We also receive two of our denominational offerings each year—the One Great Hour of Sharing, which supports Presbyterian Disaster Assistance, and the JOY gift offering, which supports active and retired church workers and their families in financial need and supports our racial-ethnic PCUSA related schools and colleges. We also receive the Mother's Day offering, which support charitable care at Presbyterian Communities of South Carolina.
The Missions committee is currently chaired by Sue O'Cain. For more information please email office@trinitypresonline.com and include "ATTN: Missions committee" in the subject line.