Our next host week is March 18-25, 2018!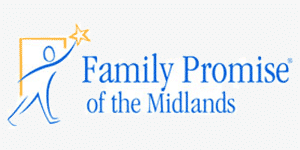 Trinity Presbyterian is proud to be one of 16 host churches for Family Promise of the Midlands.  Family Promise of the Midlands is an organization that provides temporary housing for homeless families in economic crisis.  The organization serves up to 14 family members at  a time in a variety of family configurations, mainly working and middle class families who, because of a job loss or health crisis, suddenly find themselves with no place to live.
Churches, united under the nonprofit, Family Promise of the Midlands, hope to add an additional layer of support for the families by providing interim lodging, food and support. Trinity will host a family one week per quarter by providing food, shelter and lots of love during this time. Our first week to serve as host was the first week of January, 2015. We are so grateful to all who helped make the week such a great one! We encourage you to volunteer with this ministry and have opportunities as evening hosts, overnight hosts, drivers, meal providers, and Saturday activities. All volunteers are required to attend a training session and have a background check.
You are encouraged to like their Facebook Page and check out the Family Promise of the Midlands website for more information. (www.familypromisemidlands.org)
We are pleased to have members from Church of the Cross Episcopal, Christ the King Lutheran and Greenlawn Baptist, who are serving in a supporting role with us in this ministry!